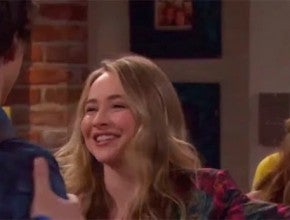 "Girl Meets World" is the much-anticipated Disney TV sequel to the popular family TV show, "Boy Meets World," which ran on ABC from 1993-2000. The challenge for Disney was in creating a new show that would tap into the enormous brand equity of that earlier show, while still coming up with a fresh approach that would appeal to teens and pre-teens in the core Disney demographic.
That meant, first and foremost, coming up with the types of themes and situations that would avoid the show being labeled as just another formulaic teen drama. At the same time, though, the show's producers wanted to avoid some of the more mature themes covered in "Boy Meets World," such as drink driving, recreational drug use and physical abuse.

The solution was to base "Girl Meets World" around Riley Matthews (played by Rowan Blanchard), the 12-year-old daughter of Corey Matthews (played by Ben Savage) and Topanga Lawrence (played by Danielle Fishel), who were both part of the original "Boy Meets World" show.

The story lines of "Girl Meets World"
The first episode of Season 1 started on June 27, 2014. The goal of the first season was to introduce viewers to Riley and her friends, such as Maya Hart (played by Sabrina Carpenter). The show followed these characters as they explored their teen years. The show takes place in New York, after Corey Matthews and Topanga Lawrence ended up getting married. Matthews is now a history teacher and Lawrence is now a successful lawyer.

The first episode of Season 2 started on May 11, 2015. After an initial season, the themes of the show began to address more mature themes, such as death, divorce, and jealousy – all themes that young girls might encounter during their teenage years.

The casts of "Boy Meets World" and "Girl Meets World"

While "Girl Meets World" is a standalone TV show, having an understanding of the characters and plot lines from the earlier "Boy Meets World" show is helpful. The younger viewers were not looking for just a continuation of the earlier show, but in an effort to widen the audience as much as possible, Disney has encouraged characters from that original show to also appear on "Girl Meets World." For example, there's an episode where Corey's parents and family appear on the show during a special holiday episode. And characters such as Shawn, Mr. Feeny, Jack, Eric and Angela also appear in "Girl Meets World."

Critical acclaim for "Girl Meets World"
While there was initially some concern that "Girl Meets World" would not be able to separate itself completely from the legacy of "Boy Meets World," Disney has actually won critical acclaim for the show and its depiction of Riley. Moreover, critics point out that the family dynamics of the Matthews family has helped to expose viewers to difficult issues for teen audiences.

Ultimately, however, this is a Disney production, so any "coming of age" story focused on Riley Matthews will likely follow a predictable narrative arc. That won't stop fans, though, from following along as Riley and her friends explore new relationships, new situations and new problems.